How to Getting Here
From Airport

... จากสนามบิน
From Ekamai Bus Terminal
Cost: THB 124
Duration: approx. 90-120 minutes
You can get to Ekamai Bus Terminal with the BTS (sky train) at the Ekamai Station

Get the bus ticket at the counter no. 1. Buses leave every 15 to 30 minutes.

When you get on the bus, please tell the driver or the ticket taker to stop at "Naklua Stop" for you.

Please refer to the this guide for your information how to get here after get off the bus.

Walk along the way and you will reach us in about 10 minutes.

If by chance you get off at the bus terminal, you can get to our hostel with motor bike taxi or baht bus (songtaew).

Duration: approx. 60-90 minutes (from BKK)
You can get to Pattaya via Motor way 7 and go along the route to Pattaya

When you reach the exit of Pattaya, please turn right to Sukhumvit Main Rd.

Drive along away about 3 km., and turn left at the T-intersection. you will see the the school at the corner.

About 200 m. take the first left you see, there will be FAMILY MART at the corner.

You will see us on the right side 50 m. away from the FAMILY MART.

or with our small map here
With Taxi
Charge: approx. THB 1,000-1,500
Duration: approx. 60-90 minutes
You can get the taxi from the Suvarnabhumi Airport to our hostel directly but with a costly price.
How to walk to Yellow Moon after get off the bus
How to walk to Yellow Moon after get off the bus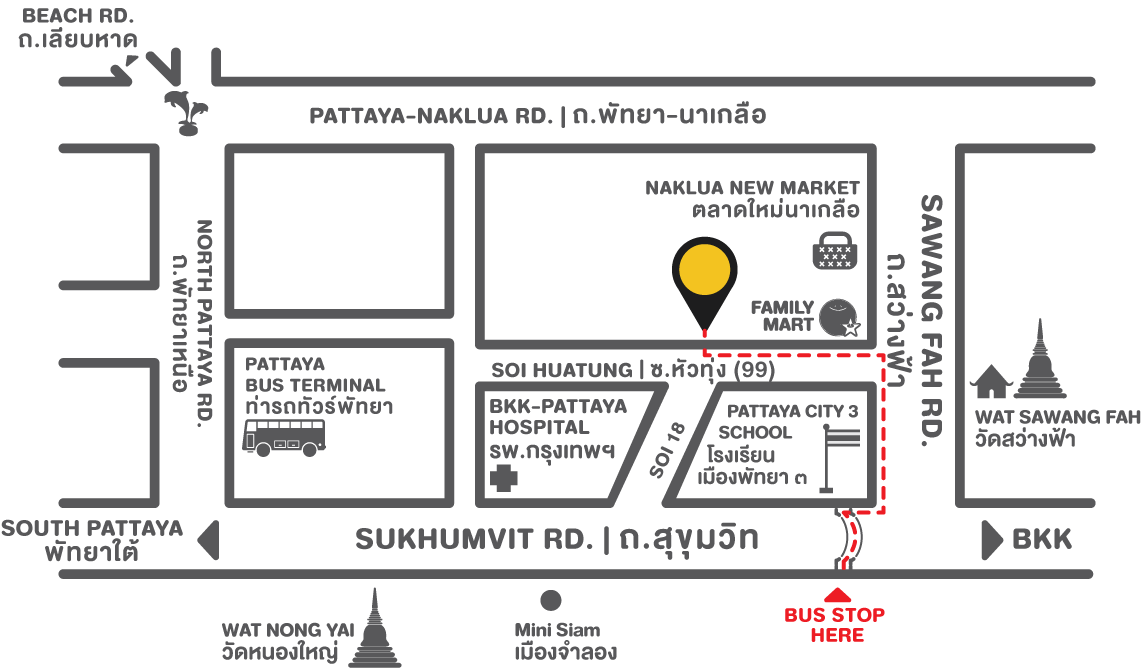 How to drive to Yellow Moon from Motor Way - Pattaya Exit